Well I guess today I'll just be blogging about Kink.com sites. They have a couple dozen fetish sites now and definately no shortage of asian girls spread amoung them. They have their favorite girls that they like to shoot over & over in different scenes and even though I may not be into ALL of the fetishes they show… ALL the girls look hot & into the kink which makes up for it.
The site Waterbondage has some new bound & tortured scenes with the LOVELY DRAGONLILY where she starts off in a sexy tight red PVC outfit getting mouth dildo fucked (yes, you'll have to watch for yourselves here!)

Then Filipina star ANNIE CRUZ GETS TIED UP & SOAKED WITH WATER. She's wearing this weird latex thing on her head in the top video clip which is kinda creeeeeeeepy… but it's ok, it's almost Halloween folks!

Surfer chick Keanni Lei is not fully retired guys!! She's still around doing stuff around the web & & GETTING ROPE BOUND & DUNKED is one of them. She looks super adorable without makeup; another major plus with this site is that you see the pornstars as they are… all natural!
It's lets torture a white girl day!! Hot asians Tia Ling & Asa Akira team up on a white bitch, tie her up and turn on the juice!! I almost didn't even recognise Asa because she's wearing super minimal makeup as well as street clothes instead of looking porn-ish. I'm like "who's this squinty asian girl?" She's super squinty… but it's ok, I can say that since I'm also asian so it's not racist.

Here's VIDEOS OF TIA LING & ASA TURNING UP THE JUICE! as well as
SWEET JESUS, THEY TOE FUCK HER TOO! These asian dommes are sadistic! Enjoy these videos!
Finally a hot new freak who did a smokin hot gangbang for Kink… she's asian and she doesn't have the stereotypical AZN porn name like many others do… I actually really like her name & hopes she sticks around. First of all a very nice intro interview of the beautiful Krissie Dee where she talks about how she got started in porn & how she loves getting facials and hard cocks in her mouth:
and now the HOT bound gangbang scene (which she states she loves & it really shows on camera).
and some super cute pics of her getting ganged on & covered in cum!!
I've never heard of her before this & I'm unsure of where she's going with the name CINDY STARFALL but she has a really hot face & body! I think she may be a cammodel but then I see these pictures of her with Porno Dan (the super bleach blonde douchey looking dude) so she must've done some porn…
While you're here anyways… check out these videos of the lovely Mia Leilani getting throat fucked while drooling… it's a messy one! Is it just me or is she looking older nowadays? You can tell there's tonnes of makeup plastered on her & you think she might look better without all the facepaint.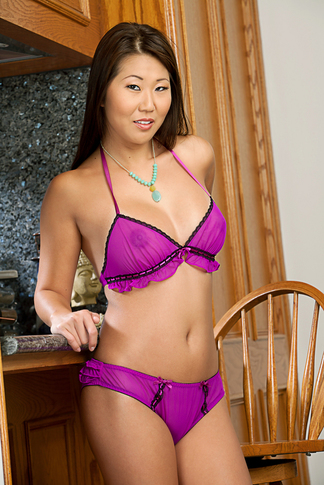 Yeah yeah I'm a little late on the boat on announcing new asian porn starlet Miss BETI HANA, you know like BeniHana restaurant. It's kinda witty but not long staying power with a name like that, but she is super adorable though! Here she plays your wife from your point of view and she sucks & fucks you so good like all good wives should. Plus here's some high-rez photos for you of the lovely Beti Hana as well.

You never know what I'm going to find next or surprise you with and you're a real asian pornstar fan, I'm pretty sure you'll recognize these starlets. There's nothing like randomness in the day!
Tia ling sucks a hard beautiful black cock
Envy Mi gets cum on her glasses! pics
Aliyhah Yi gets massive cumload on her pretty face
Get ready for some nice high resolution photos of the lovely self proclaimed satanist Nyomi Zen using a big red dildo and these glossy pics of Annie Cruz looking somehow very innocent if that's still possible. If you've just stumbled upon this page by accident then be sure to check out the pornstars individual pages like Annie Cruz & the big full list here!
Since there are many video & pic galleries of pornstar Tia Ling in hardcore action I thought it might be nice to just post some nice clean ones of JUST Miss Tia looking cute by herself. Cuz she really doesn't need all that other stuff around to shine. if you go to her site there's plenty of videos & images inside of her both in softcore and hardcore fun.
Here's Tia showing off her round ass & pussy pics
ok fine… here she is getting tied up and fucked by 2 men. Don't complain! LOL
Yup… Evelyn Lin is a super cutie pie, proven again & again… and this time in this old interview with her & Luke Ford. It's hard to find good unedited and REAL interviews with the starlets so keep this one!
back to MY ASIAN PORNSTARS LIST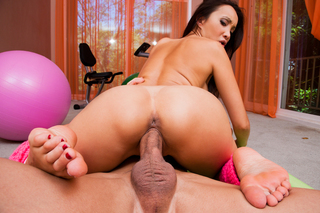 One of my favorite looks is girls in 80′s clothing, which includes legwarmers, shiny spandex and acid wash cutoff jean vests. I guess I like to romantisize about growing up in the 80′s since I was right on the cusp but essentially I missed it. So Katsuni not only does a super hot workout video here, she fucks the dude in nothing but her neon pink legwarmers! I'm singing "Let's Get Physical" as I'm typing all this!
Here's the FREE VIDEO CLIPS of Katsuni in legwarmers
back to FULL ASIAN PORNSTARS LIST
Just perusing around and due to the lack of new asian starlets coming into the scene the last few years, I'm going to post some oldies that you may not have seen yet… and keep their memories alive! So here is the lovely Jayla Starr riding big cock movie. Look at the way her back arches up… magnificent! I actually don't even know who that is but the name is familiar.


Oh! Here's a newer scene from Yuki Mori where she sinks to her knees for a nice POV blowjob video. The bangs are awesome! You wouldn't think such a cute innocent face could be so naughty. naughty little fortune cookie!
back to FULL ASIAN PORNSTARS LIST

My all time favorite porn to watch is of course ASIAN INTERACIAL, and lately there just hasn't been enough of it being filmed. And there are the pornstars that just straight up don't do any black men, which is such a bizarre concept to me, but whatever. To each their own. My favorite pornstars are definately the ones that ride a lot of black cocks. So here's a few good interracial asian scenes to whet your appetite for more:
Tia Ling riding big black cock amatuer style
Asia being a bad black cock slut wife
Vietnamese Bamboo sucking black cocks gloryhole videos
RARE BAYLEE LE sucking on dark meat videos one of her only porn & interacial movies made
back to FULL ASIAN PORNSTARS LIST
She's not new to the porno scene by any means but just in case you haven't seen her performing yet, here is the 1/2 asian Kimora Klein riding on a big fat dick videos! Kimora Klein lives in Miami, is on Facebook & Twitter all the time & her favorite adult actress is Asa Akira. I'm not sure what her non asian half is but she is fine! If you prefer the timeless captures of photography then here's some pictures of the lovely Kimora Klein getting fucked picture gallery
Oh weird, sometimes it's spelled Kamora Klein but the official spelling is Kimora Klein
back to FULL ASIAN PORNSTARS LIST