One of my favorite asian pornstars gets gangbanged by a bunch of real men (non pornstar guys)!! It's asian MILF Kitty Langdon, who is well in her 30′s but still a real looker with her big boobs and long hair. This is definately an older video but a goodie. Kitty Langdon loves multiple cocks and it really shows on video, you can't fake this shit. WC Gangbangs does it all gonzo style, with real looking men, not all ripped & hardcore porn guys but normal looking Joes like you. If you want to see Kitty Langdon gangbanged scroll down the main page of WESTCOAST GANGBANGS and there she is halfway down on the left in the blue top!

Asian porn superstar Tera Patrick will be hosting the 3RD annual Halloween Party at Tao, Las Vegas. So if you're in the area or thinking about having some Halloween fun Vegas style you might want to check this out. If you haven't been to to the Nightclub (and also trendy asian fusion restaurant) it's a must see in Las Vegas.
A couple halloweens ago we did Halloween in Vegas and we checked out some clubs on the weekend before Halloween. Studio 54 @ MGM had a costume party with dancers doing spooky dance numbers on stage & we also did Tao a few days before Oct 31. It is WELL WORTH IT, even without Tera Patrick there. Pretty much everyone dressed up and were in party mode the whole night. It's even just a trip walking down the Strip at night since there's a lot of peeps in costumes stumbling around drunk. Plus Circus Circus transforms their indoor amusement park into a gory horror-fest with several big haunted houses. Have Fun!

Finally something is happening in the NorthWest coast! This might be late news… if you're in the Seattle, Washington Area then Wicked contract superstar Kaylani Lei will be appearing & signing autographs this adult bookstore from 6PM-10PM on October 24, 2008 :
Castle Mega Store
206 Broadway East
Seattle, WA
206.204.0126
Well it's been awhile since I've listed any new free galleries from Mr Chews Asian Beaver so I checked it just now and lo and behold there's a plethora of really new asian pornstarlets for you.


First off his a cute Japanese girl named Yuri Mori who has a beautiful smile, flawless skin and perky natural boobs. Here's a great picture gallery of Yuri Mori in plaid skirt stripping. If you like her then here's more Yuri Mori video clips of her getting fucked. I think this might be her first scene cuz I can't find any info on her anywhere. Out of all these new girls here… this one is the clear winner.


Brand new pornstar Krystal Kali looks very asian to me, I love her kinda bitchy look with the cute button nose… I'm guessing Thai? Here's some hot pics of Krystal kali gettin bizzy with cock.


Next up is Penelope Parkins (remember Penelope Pumpkins, hahaha. Love that name) who looks half asian. Here's some Penelope Parkins videos of her sucking massive cock. She totally doesn't look asian to me at all, maybe Latina or even Mulato. No info online found about her.


Sayuri is japanese & those bangs make her look SUPER AZN, lol. The site says she's straight from Tokyo but judging from that huge lower back tattoo… I think she's American Asian dude. Here's some hot pics of Sayuri getting fucked hard.


Jayla Starr is the newest "asian" girl on Mr Chews and if you look at these pictures of Jayla Starr and look closely at her hair… ummm I'm pretty sure she is not asian; she looks half black half white to me. I think they're running out of new azn chicks in the valley, lol. I mean they've shot a lot of girls and to come up with a new one every week is almost impossible.

Here's word on a BRAND spanking new asian spinner (she almost looks anorexic, I know that's not a nice thing to say but she does look it! Sorry!) named Amai Liu ( pronounced AH-MY ) She is only 18 years old, 5'1″ and only a mere 80lbs. She is from New Jersey and flies out to LA to shoot porn. Upon closer inspection of pictures, I didn't think she was full asian… turns out she is half Chinese and half Dutch, oh and grew up in Hawaii. She might be a bit too "teeny" looking for some; she's definately not my type…
According to a male actors personal blog. Amai Liu is very cold on set, doesn't like to talk or be friendly with the other staff and talks about hating men, but once the camera is on she turns out an amazing scene! Surprise. She has also used the name Amai Liv as well. I found one video gallery post of teeny Amai Liu sucking a big cock mpegs

There's a brand new MILF pornstar (says she's 28) hitting the scene named ALONNA LEI, yes another one with a similiar sounding Hawaiian type name. It's ok though, she is actually 1/2 Hawaiian & 1/2 Filipina, with beautiful cat eyes and what looks like a new boob job, since they are sitting quite high still. I swear if I tally up all the Lee's, Lei's, Le's and Li's it would make up a huge percentage of all the American Asian pornstars. Anywho, check out these great picture galleries of her having fun getting fucked :
Asian Alonna Lei nude and getting fucked pics
Hawaiian pornstar Alonna Lei spreading pussy wide pics
With October 31st only 2 1/2 weeks away it's time to finalize your costume plans, order your accessories on Ebay and figure out where the best costume parties at the bars are. Halloween is a BFD ( big fucking deal ) in my household and there is so much preparation in store… so what better way to top off the Samhain celebration than to get in the creeeeepy porno mood! Here are some of this years NEWEST halloween type porn movies to get you all spooked out.
THE TAUNTING actually features 3 well known asian hotties, Lystra (as the Ghost character), Kitty and Kaiya Lynn all star in this parody of Japanese horror movie The Grudge.

NOT THE MUNSTERS XXX is of course a high budget parody of the TV classics The Munsters. I was never a fan though; I preferred the Addams Family myself. The TEXAS VIBRATOR MASSACRE has tons of blood, guts and boobies, like many of the early 80′s slasher classics we grew up with.


This porn parody of the teen Scary Movie series has a lot less blood, just lots of hot fucking. MY SCARY MOVIX is produced by award winning Marc Dorcel.
If you want more suggestions for Halloween Porn check out this big list @ my Gamelink Store. Until then… Happy Hauntings.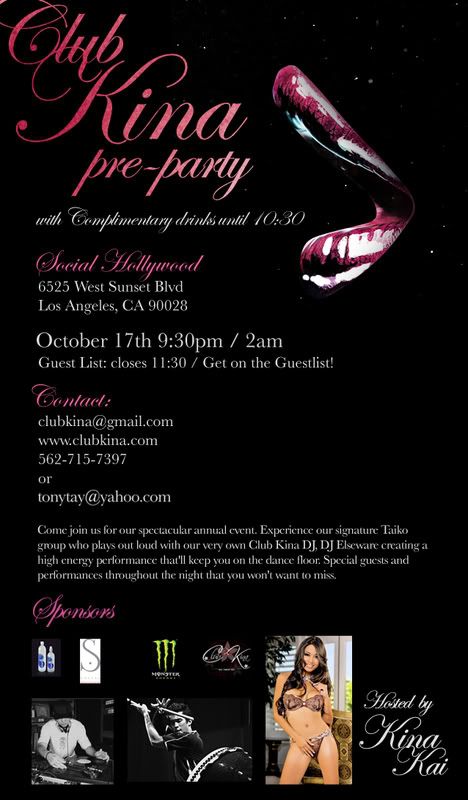 Was there one last year? Did any one of you go? Was it good? It's the first I've heard of this… asian pornstar Kina Kai is having a party on October 17th on Sunrise Blvd in Los Angeles. Look you get free drinks until 10:30pm!!
Asa Akira is a Japanese American pornstar (started off as a feature club dancer) born and raised in Brooklyn, NY. Akira has lived in Tokyo Japan in the past but currently lives in Brooklyn but also goes to LA to star in porn films. She's actually been on quite a few boxcovers already!
She is one of the hottest new asian pornstars on the up & up, looking like a cross between Lucy Lee & Miko Sinz, but please don't get her confused with Akira Lane. She's a Capricorn and born January 2, 1986. She started her own website in 2006. Here's some info & free galleries for Asa Akira :
Video clip of Asa Akira on knees sucking cock for Naughty America
Asa Akira poolside blowjob videos
video clips of pornstar Asa Akira taking cumshot
Asa Akira porn filmography DVD movies @ Gamelink
Asa Akira seems to have done quite a few gonzo DVD porn titles but there's not too much internet porn content just yet. If anyone deserves a profile page it's her, but for now be sure to make friends with her on Myspace and peep all her candid photos there.
For the 16th year in a row, Night Moves adult show and awards is hitting Tampa, Florida again. If you already live there then you probably know all about this event. If you don't know much about Tampa, FL, it is definately not the super christian conservatives that you think reside there. It's actually a hotbed of naughtiness with lots of swinger clubs, a very active swinger scene and tons of fetish & porn being filmed there as well as the annual Fetishcon happening in August.
So the only asian porn stars that are listed as attending NightMoves 2008 on October 10-13th (yes, this weekend!! Why do I always wait until the last minute to write up on these things?) are Kaylani Lei and Gianna Lynn but there's also a LOT of other white pornstars if you are a fan. Here is the full list of attending pornstars.

Just added profiles, complete with links to tons of their free video & pic galleries as well as info on these two lovely (but not super new) asian starlets: ISIS LEE and KEA KULANI . Well these two couldn't be more different than eachother. Isis Lee is from Hawaii and is currently a gentlemens club dancer in Pheonix Arizona. Isis is great at blogging, connecting with her fans & now has her own official website too. Kea Kulani on the other hand is virtually impossible to find any info on her, hasn't done any interviews… but a heck of a lot of porn scenes! Enjoy these two beauties.

Waaaay back in 2002 there was a Vietnamese import model from Vancouver, BC named Nina Le , who was friends with the cute model Hevyn Li. They both went down to LA & did a few spread photo shoots by themselves and also a couple with each other. Nina Le wasn't in the modelling scene for very long at all, in fact she was quite reluctant to even do the nude spreads. I think her plan was to have her own solo girl site but it never happened for whatever reasons. So I just found these NUDE PICS of NINA LE and probably the only ones you will find online too! Just look at that hairy natural pussy, lol. So enjoy:
Nina Le stripping lingirie and pussy spread pics
Nina Le with model Hevyn Li posing together pics