Ok, I counted how many asian starlets profile pages I have listed and the total number is 111 now! I wasn't even sure if I broke 100 yet but apparently that happened some time ago already. Sweeeeet. It may seem like a lot of pornstars but there is still MANY out there that I haven't listed & made pages for yet… plus some Eurasian stars too like Kat, Maya Hills, etc.
So today we've got pages for the dark skinned hottie Filipina ARCADIA DAVIDAand Taiwanese born NIYA YU. What a skin contrast! They are both awesome hot & hardworking pornstars that do anal, double penetration & loves sex. Be sure to check out their free pics / video galleries as well.
Just a quickie to some free galleries of asian porn stars shot for Naughty America lately:

Busty Ava Devine as teacher seducing her student pictures
New asian pornstar Lily Li as student getting fucked in class mpegs
Mika Tan as cheating housewife picture gallery
Watch Ava Devine as a horny housewife nympho clips
Sexy Mika Tan as MILF now! Video clips

The early 90′s, in my opinion, was when the best & most memorable asian pornstars debuted and were at the height of their game in the history of porno . Tricia Yen, Asia Carrera, Kobe Tai, Mimi Miyagi , Kia to name a few.
Kitty Yung started her porn carreer at age 23 in 1993. She did a total of 138 movies, many of them anal, double and even triple penetrations. She also had an "eye reshaping" surgery to make her Korean/ Hawaiian eyes more "Caucasian." You can read all about Kitty Yung on her Wikipedia entry.
You can also read the one & ONLY interview that Kitty Yung has given here. Lucky Roger T. Pipe!
Quick recap on what retired & widowed pornstar Asia Carrera has been doing in the last little bit. On April 25, she moved into her dream home (not too far from where she is now) in Salt Lake City, Utah. She's also invested Don's insurance money into the Stock Market, thus proving, she will always be a gambler. Good luck with that!
Also she posted a recent picture of herself ( see her NEW BULLETINS PAGE ) and tada!! She's a happy soccer mom complete with a nylon fanny pack across her waist… TOO CUTE! OMG, pretty soon she's going to start looking like my Chinese mom. If she starts cutting her hair shorter than it is and then perming it, you know it's all over. LOL.
Just kidding Asia, keep being the best mom that you are!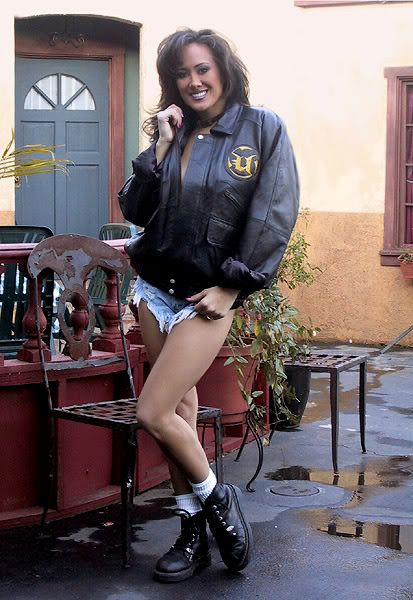 Above: Asia Carrera in the Unreal Tournament leather jacket

It's time again ( actually I haven't for a looong ass time) to post some great galleries of asian pornstars being tortured, trapped, gagged and tortured some more……. by SanFransisco powerhouse fetish company, Kink.com
No, this is not a horror movie, though it sounds like a typical Japanese scary flick. It's only the hottest & sexiest asian girls getting tied up in a sexual manner. Straight to the movie / picture galleries:
Jandi Lin gets metal machine bondaged MWV clips
Horny Ava Devine gets fucked in the ass by machine dildo clips
Japanese model Ichijo Aya getting fucked by machine videos
Sexy Dragon Lily getting hodtied with hands in back mpeg clips
Pictures of asian Jandi Lin in metal neck device
Pictures of Ava Devine machine dildo ass fuck
Pictures of Dragonlily in Japanese rope bondage

I had to post this amazing find where the lovely Filipina Sabrine Maui gets interviewed about blowjobs. She describes what she likes to do and it is great to hear this dirty talk from such a beauty.
Just checking the mainstream tube sites for some NON-PORN candid videos of our favorite asian stars. Most of the time I'd rather see the behind the scenes videos where the girls are just being themselves. So here's a bunch:
Charmane Star at the AVN Expo 2008 getting interviewed at the Teravision booth by the front!

Here is a VERY sweet and long behind the scenes interview with the hot surfer & skateboarding chick Keanni Lei

Here's a really cheezy "interview" with Nyomi Marcella that seems like it's from the beginning of a "reality porn site" it is sooo goofy:


Ok, this is kinda weird for me & does nothing for me at all. I was shocked when I just came across this on a review section. The beautiful busty MILF Ava devine gets TRANNY GANGBANGED in
Transsexual Gangbangers #10 .
Those of you with a weak stomach don't click anything & keep scrolling down!!! Now we all know she craves cock & doesn't really like lesbo scenes as she's stated in interviews BUT this is jsut too weird for me. I'm just pointing this out in case there's some that really like it.
BUY TRANSsEXUAL GANGBANGERS #10 NOW
- from the review on site "Ava Devine's on her knees almost immediately, sampling the smorgasbord of tranny cock on offer, and it's not often you'll see a girl using her mouth so well in so many ways at once. Ava is not only an avid cocksucker, happy to take two and even three at a time, but she's one of porn's finest dirty talkers, with a patter that would do credit to a phone-sex talking transsexual sailor with a gutful of Spanish fly (seriously, she never stops talking dirty, going so far as to suggest, with her mouth full of cock, that the three trannies might bring their boyfriends over so she can have three more cocks). The tranny posse slaps her face, fucks her tits and pounds her throat relentlessly, but Ava's up to the challenge; she takes each and every cock deep without any trouble at all,"

Hustler launches the newest Asian Fever DVD this time with an ALL new look, all new director ( Kevin Moore ) and the most popular "IT" girls of Porn Valley. #34 features a star studded cast of Evelin Lin, Tia Tanaka, Gianna Lynn, Charmane Star, Lana Croft & Niya Yu I personally never liked the Asian Fever titles that featured the Thai girls with names like Mim and Pin. The line has changed directoral hands, with Ray Anderson, Don Fernando "AsianMan", David Aaron Clark and now Kevin Moore… I hope this is the last of the change & it stays as is, at least for a bit, until we see Jandi Lin get black DP'd anyways,
BUY ASIAN FEVER #34 NOW! & check out the other asian porn deals.

What could make a more killer & complete scene than having the nastiest asian pornstars Ava Devine, Keanni Lei AND Annie Cruz ALL sucking on your cock. Life really can't any better for these lucky dudes in the scene. Oh wait, I forgot to mention that it's all ASIAN INTERACIAL!
Check out these videos of Ava Devine, Annie Cruz & Keeani Lei black gangbanged.
And more of Annie Cruz & Luci Thai taking huge black cocks mpegs
And one bonus movie gallery this time with famous JADE HSU and Envy Mi getting black banged mpeg clips
EMERGENCY POST!! Sorry to interrupt your wank session but this one is actually important. I found a picture gallery of Leili Koshi ( that asian hottie that has been eluding everyone as to whom she is or where she is now!) In that one gallery that I posted awhile back she had short hair and glasses & in this gallery she's got long hair. It looks like it was part of an Los Angeles filmed DVD:


Busty asian Leili Koshi getting boned and drinking cum pics
Also of note is the teen asian pornstar WITH BRACES… KAT! Here's some pics of Kat on her knees sucking cock with a big ass smile on her pretty face! I've seen her in person before & I'm sure she's only 1/2 asian but I don't know what nationality she is or anything.
Just a random posting of a bunch of great asian porn galleries I found:


Sexy asian Lana Croft (other name she uses is Lana Laine) movies clips of her getting picked up on the street and talked into giving it up by waving money in her face… It was literally that easy, really.
Oh look! It's retired porsntar Miko Sinz, I guess this is old content? Or is she back in front of the camera? Here's some pics of her looking natural with very little makeup and she's also featured on a reality porn site where you know, the usual…. with a nice creamy finish on her perky boobies.
For those of you who like it tamer (wussies) here's some pretty pics of Nautica Thorn as a secretary, teasing you with her black lace garterbelt and sheer stockings.
Well the days not over without some good old fashioned pussy pounding asian interacial videos, so here is pornstar Asia getting pounding by a huge black cock video clips.

I just heard rumor that famous Korean pornstar LUCY LEE has been released from the pokey on March 28, 2008. Seriously, she's been in there long enough! I remember the last time she came out of doing time she lost weight and was very fit and toned. I wonder if she's buffed out some more. Keep your eyes out on industry news & MySpace to see if she posts & gives updates. Yay!! Lucy is out of jail!!