So Hustler has been around for many years & they've since expanded their asian line from just the Asian Fever movies to many more. There's not a lot of new new updates in regards to the movies but some of these asian pornstars may be new to you! So let's see what they've added:
We've got the beautiful & natural Kimmy Thai getting dicked down by BBC Jon Jon. I like her since she's got a traditional look to her, no fake blond hair or other silliness. She just looks like a nice asian girl.
To keep with the flow of traditional looking girls check out Bella Ling sucking that huge black cock too!
Here's a girl I've never even heard of Sharon Lee! When was she active? Oh I see, she's from France so she's not part of the American-Asian porn girls. Seriously love her look as well; I hope the days of tattoos & bleached hair are over! Check out the tall SHARON LEE showing her perfect milky white skin for you. Ok ok, just one more video! Who can resist MIA Ryder in hot pink lingirie & stockings? Yes she's one of the non-traditional ones here but she just looks so pink & reminds me that spring will be here soon.

She's not a new pornstar but somehow I haven't posted about her yet! Her name is Tina Lee & she's a little on the fuller side which I think is super hot & gives great high energy scenes. And of course this scene is a typical "casting couch" reality porn scenario which is always hilarious!
Video of Tina Lee on knees giving head

Pics of Tina Lee casting couch audition
Half filipina, Eurasian pornstar Natalia Forrest is being helped at the shoe store when the guys tending to her start giving her a sensual foot massage… well one thing leads to another & their cocks are between her soles, giving them a hot foot job!
Enjoy these pictures of Natalia Forrest foot job
Videos of Natalia Forrest foot fetish
and if that's not enough here's more videos of Natalia Forrest foot fetish fucking

Because when MIKA TAN is your dominatrix it's always going to be fucking sexy as hell, even if you're getting whipped and tortured. Hey, let's see some pictures as well of Mika domming you!
I was just browsing the Kink videos over the years & seeing what other asian pornstars were on there & I found an old G/G/B scene with the lovely KOREAN LUCY LEE. I wonder what she's been up to? I don't really pay attention to news or gossip much these days but it's nice when I find some old rare stuff! So here's Lucy Lee "torturing" some lucky dude videos plus some photos of Lucy strapping on to pound him in the ass!
I bet most of you would consider taking it in the ass if it meant getting to bone Lucy Lee afterwards! LOL. Hmmmm I should start a poll…
Here's another video gallery of Lucy Lee tying up & fucking a lucky dude!

It's not the most believable femdom scene but I think it's SUPER ADORABLE seeing Kitty Landon in cowgirl gear trying to be a bitchy domme. I'm sure the owners of that site don't wanna say it's "cute" but I mean… look at her! The site is Men In Pain but I highly doubt this guy was in any type of pain from her Kitty…

On another note, Annie Cruz has no problems being a domme & tying guys up to torture them! Especially cock & ball torture, rope bondage & more!
OOOH, here's Annie Cruz again & she's doing some very intricate rope bondage, suspension & strap on fucking.
Free pics of hottie Japanese Yuki Mori giving blow job! Even though it's for a "handjob" site she basically does it all anyways! From pussy spreads to face riding this lil pic gallery has it all so have fun wanking! What else do we have today for you to wank to…? New pornstarlet Cindy Starfall shows her cock sucking skillz & there's a lil bit of foot fetish going on with her cute teeny asian feet as well! I love new starlets that enter the biz… it's been somewhat of a slowdown lately but there are a few… Here's a winner for you! We've got the lovely young looking asian cutie pie SASHA YUNG TOSSING SALAD amoung other dirty acts & looking like scary ass jail bait doing it!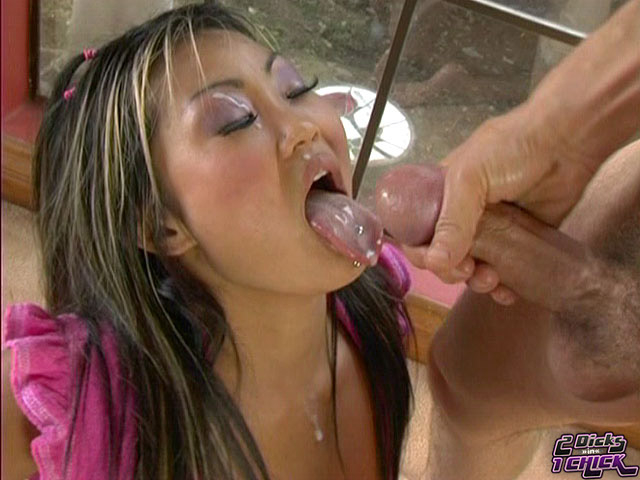 There's nothing really better than chasing away those after Christmas blues with a good shopping spree and video galleries of the hottest old school asian pornstars getting boned:
Sexy Korean Lucy Lee getting two cocks at once videos
Beautiful Kiwi Ling loves fucking hard white boys
Old pics of Roxy Jezel getting boned in the ass!
Tia Tanaka showing her pink pussy pics

I think it's always important to support the pornstarlets that are industrious enough to start & maintain their own sites, esp. in this day & age where there are so many that just come & go like a flash in the pan without establishing sites, fan groups or a place where they can talk to their fans at all! There's lots of girls just getting in for a quick buck or whatever reason so I think it's always important to support the ones that have staying power, that work hard to connect with their fan base. & NO ONE does it better than the beautiful Korean Tia Ling of course. Check out these FREE photo galleries below:
Tia Ling getting huge ANAL insertions & water in ass
Kitty Langdon & Tia dressed up as maids girl/girl action
And of course for those of you who like seeing a penis in the mix there's plenty of that too! Here she is getting tiedup & fucked hard by both toys and a hard dick! You can see all her stomach muscles flexing as she's cumming. So hot!

She's been in the scene forever now & as far as I know, she's still in Las Vegas & she still has her site & doing her thang. She's lookin a bit older though, the last time I saw her at a big boobed karaoke event here in town. Ok, enough talking, let's just enjoy her bewbs… bewbs… LOL
Minka's teeny bikini can't hold her melons pics
Sexy asian MINKA in black corset pictures
MINKA & all her pornstar friends at AVN Expo
Back to an era when asian girls hair were all long & black, not bleached blond or dyed red. And the girls all had milky clean skin… NO TATTOOS! I'm not the biggest tattoo fan unless it's a huge & intricate piece so it's just back to some old classic asian stars for this Thanksgiving:
ASIA CARRERA DEEP THROATING A BIG COCK & FUCKING VIDEOS


Oooh here's a super hot interracial threesome with Mr. Marcus playing with Mila Yung & Asia That's a name I haven't heard in awhile… Mila Yung.
mmmmm…. here's an old video of Charmane Star from the Barely Legal series Happy thanksgiving from your asian porn hunter.

about the new asian scenes on Kink.com since there's been a lot & it's been awhile since I explored the new videos. London Keyes… who wants to see her bound & gagged while getting fucked hard?? (raises hand)
Here's some FREE FLASH VIDEOS OF HER GETTING POUNDED

Even better…! We have the extremely sensual YUKI MORI and she looks exquisite as she's all bound up with a hot blonde dominating her asian booty! Watch the VIDEO TRAILER OF YUKI MORI HERE.

and last but certainly not the least… we have a NEW NEW NEW girl never seen before Madeline Mei and she's a real submissive when she gets trained by a hot caucasian couple and USED AS THEIR PERSONAL SEX SLAVE. OMG look how cute & innocent she looks as they hang her & use toys to make her cum! KEEEYOOOTIE!